Northport Receives Official Visit by
The New Chairman of Port Klang Authority
Northport (Malaysia) Bhd (Northport), a member of MMC Group, received an official visit by the new Chairman of Port Klang Authority (PKA), Datuk Chong Sin Woon. The Chairman's visit to Northport was accompanied by Captain K. Subramaniam, General Manager of PKA and PKA's senior officers. The PKA's delegation was welcomed by Dato' Sri Che Khalib Mohamad Noh, Group Managing Director of MMC Corporation Berhad and Dato' Azman Shah Mohd Yusof, Chief Executive Officer of Northport.
The Chairman and his delegation were briefed of Northport's operational performance and future development by Dato' Azman before they were taken for a tour around Northport for an in-depth experience of the port's operations and facilities.
The visit served as a platform for Northport and PKA to further strengthen the relationship between the port operator and Port Klang's regulatory body. The Chairman also commended on Northport's commitment and acknowledged the good working relationship between the two parties in fulfilling Port Klang's vision as the National Load Centre and the Preferred Logistics Hub for the Asian region.
Datuk Chong Sin Woon was appointed as the new Chairman of PKA following an announcement made by the Ministry of Transport Malaysia after receiving the assent of the Yang di-Pertuan Agong. He will serve in the position for a two-year term effective 18 April 2020.

NEXT NEWS
PREVIOUS NEWS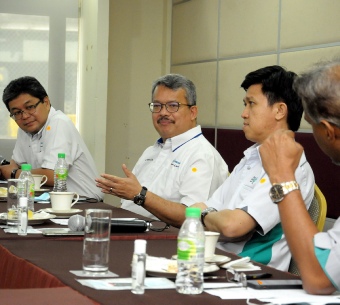 NEXT NEWS
PREVIOUS NEWS