PREVIOUS NEWS
PREVIOUS NEWS
Penang Port Continues the Goodwill
Through its 'Give For Good Campaign'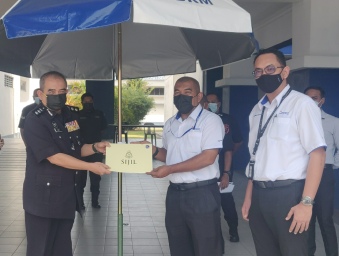 Penang Port Sdn Bhd (Penang Port), a member of the MMC Group, launched its 'Give for Good Campaign' by contributing 40 units of durable round umbrella to Seberang Perai Utara District Police Headquarters.
The contribution was presented by Major (R) Asri Alias, Head Security, Safety and Emergency Services of Penang Port to the YDH ACP Noorzainy Mohd Noor, District Police Chief. The second reinstatement of the Movement Control Order which was implemented on 13 January 2021, has seen police officers returning on the roads by setting up roadblocks to monitor the public's movement between districts. This contribution was aimed to protect the policemen from outdoor weather conditions such as scorching heat of sun and heavy rain.
Penang Port recognises the challenges faced by the frontliners, especially the police officers who have dedicated their lives to help maintain the law and order during these unprecedented times.
NEXT NEWS
NEXT NEWS