NEXT NEWS
With the increasing number of COVID-19 cases in Selangor and Kuala Lumpur, MMC and its operating companies in Klang Valley have taken the initiative to contribute five Airvo 2 Humidifier Nasal High-flow Therapy machines to the Trauma and Emergency Department of Hospital Selayang, Selangor.
The therapy machines worth a total of RM122,500.00 were donated by MMC Corporation Berhad, Northport (Malaysia) Bhd, Malakoff Corporation Berhad, Gas Malaysia Berhad and MMC Engineering Sdn Bhd, utilising the companies' zakat fund. Nasal high-flow therapy has been acknowledged by the World Health Organisation as the first line of respiratory aid to deliver oxygen for COVID-19 patients and avoid from being intubated.
Hospital Selayang is one of the designated hospitals in Klang Valley to treat an increasing number of COVID-19 cases. It is hoped that our contribution will ease the hospital's burden attending to large number of COVID-19 patients.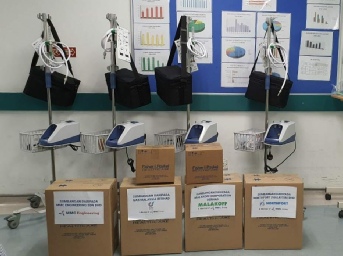 MMC Group Contributes Medical Equipment to Hospital Selayang to Aid the Fight Against Covid-19
NEXT NEWS