NEXT NEWS
Kontena Nasional Organises Virtual Live Event for its 50th Anniversary with Employees
Kontena Nasional Berhad (Kontena Nasional), a member of MMC Group, successfully organised its 50th anniversary event which was held virtually and broadcasted live with employees at 11 Kontena Nasional branch offices throughout Malaysia including Sabah and Sarawak.
The event attended by more than 200 employees, began with a presentation on Kontena Nasional's history from 1971 to 2021, followed by the company's corporate song as well as Negaraku in conjunction with the 64th Malaysia's Independence Day. During the event, Nik Muzani Nik Abdul Aziz, Chief Executive Officer of Kontena Nasional took the opportunity to thank all employees for their dedication and hard work towards the resilience of the company. He also advised the employees to always be prepared for changes to ensure Kontena Nasional becomes the trusted premier supply chain partner.
Since its inception in 1971, Kontena Nasional has expanded its business from container haulage to international freight forwarding, warehousing, distribution, supply chain solutions, cold chain solution and halal logistics. Kontena Nasional is also Malaysia's first halal logistics provider, certified by the Department of Islamic Development Malaysia, offering a full range of halal logistics services including halal transportation, halal warehousing and samak services for containers.
Today, Kontena Nasional is one of Malaysia's largest one-stop logistics companies providing comprehensive logistics solutions customised to customers' requirements.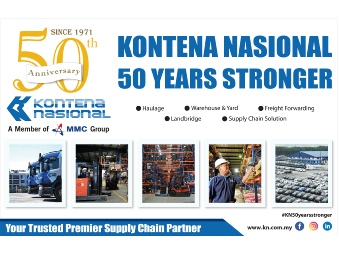 PREVIOUS NEWS
NEXT NEWS
PREVIOUS NEWS