NEXT NEWS
NEXT NEWS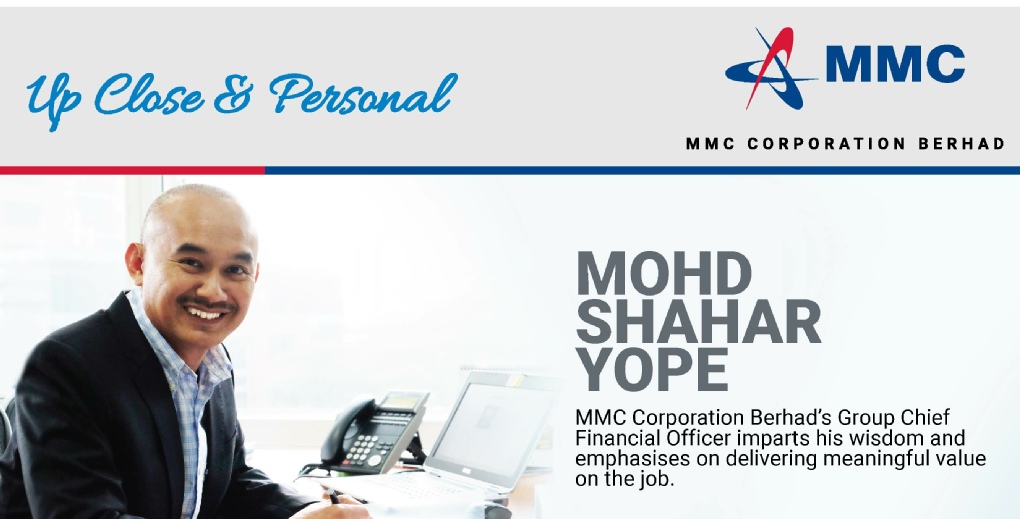 Mohd Shahar Yope or fondly known as En Shahar by many, is the man responsible for overseeing MMC Group's Finance Operations as well as the Group's financial, capital and tax management, among others.
Born in Bukit Mertajam, Penang, his primary and secondary education years were mostly spent in Penang and Kedah before pursuing his studies in Accountancy in the United Kingdom.
"My first and second year as a student began in the University of Derby before completing my Association of Chartered Certified Accountants (ACCA) certification at Emile Woolf in London in 1987."
After graduating from the ACCA, En Shahar returned to Malaysia and kickstarted his career with Ernst & Young for three years before moving on to the corporate world. He has since listed and involved in the turnaround of several companies throughout his career including Shapadu Kontena Berhad, Gopeng Berhad, Lankhorts Berhad and KUB Malaysia Berhad. He later served Telekom Malaysia Berhad before joining MMC Corporation Berhad in 2014.
A day in the life of an accountant
To some, being an accountant is downright boring and the job is usually mundane and monotonous. However, when asked about his favourite part of being an accountant, En Shahar said "I really like meeting new people from numerous industries. I've been in several industries, from telecommunications to infrastructure and utilities and meeting new people along the way makes my job really exciting."
Despite the nature of the job, he added that "Infusing creativity on deliverables makes the job less boring."
When it comes to working style, En Shahar values qualities such as team work, dedication, discipline and integrity in every personnel. He also stressed that "the most important value as a leader is to be fair. If someone gives a very good contribution, he/she must be recognised for a job well done and if someone is lacking in their deliverables, they must be reprimanded. There is no room for favouritism in my book."
Aside from the part and parcel of being an accountant, En Shahar finds pleasure in creating value for the company as well as training and inspiring younger accountants to become better at their profession.
Personality and Pastime
"I always look up to Prophet Muhammad PBUH, his companions, Hadiths and Al-Quran as a guidance in life on how to do and resolve things around me." He added, "I am a very simple person. I prefer to keep things simple and I do not require many things in life nor expensive accessories."
En Shahar truly enjoys scuba diving whenever he can find the time. The beauty of the underwater world piqued his interest towards the activity. "It is the most beautiful place you can ever go to. Everything is alive and surrounded by colours, emanating from all the living creatures underwater," said En Shahar.
"Scuba diving requires strong and healthy body as well as self-confidence. Good buoyancy control, familiarity with diving gears and ability to deal with difficult situations are fundamental when scuba diving. Each diver must have enough capacity to resolve any problems and be prepared to abort the dive when an emergency arises," he added.
Among his favourite diving spots are Sipadan in Sabah, Lembeh in Sulawesi, Komodo National Park in East Nusa Tenggara, Romblon in the Philippines and Raja Ampat in West Papua as these places offer wonderful underwater sight. When he is not underwater, he likes travelling and often invests his time in photography. He has with him, a collection of cameras such as the Nikon D610 and several other cameras as part of his hobby.
Principles to live by and aspirations for tomorrow
Among the valuable advice that En Shahar wishes to impart to others are the importance of being honest and going by the book. As the saying goes, "honesty is the best policy", En Shahar holds firm to the principle of being honest. "Always opt for honesty and most importantly, be honest with yourself. If you are honest from the beginning, everything will fall into place."
He also added that, "everything that we do has a certain set of procedures and it is critical for one to follow procedures. If you follow procedures, you will minimise your chances of making mistakes."
"I am a strong believer in hard work and honesty. No matter how privileged you are, at the end of the day, nothing beats hard work, discipline and honesty."
"I believe in having a strong passion is a key attributed to being successful. To be successful in what you do, you cannot do it overnight. You need to gain a great deal of experience and go through a lot of challenges. People will constantly challenge your views and ideas. You will need to embrace the challenge and learn along the way."
En Shahar looks forward to driving the Group to greater heights and delivering meaningful value to MMC remains on the top of his list. "We have to be the best in what we do to create value for the Company."
Creating Value in Every Day
"We have to be the best in what we do to create value for the Company."