Port of Tanjung Signs Corruption–free Pledge
PREVIOUS NEWS
Pelabuhan Tanjung Pelepas Sdn Bhd (PTP), a member of MMC Group, in collaboration with Malaysian Anti-Corruption Commission (MACC), continued its strong commitment towards a culture of integrity by signing a Corruption-Free Pledge to encourage integrity and good corporate values in all of its operations.
The Corruption-Free Pledge is one of the company's many efforts in fulfilling the vision to make PTP a high performance organisation which is efficient and responsible, while adopting a high standard of governance, trust and integrity.
Held at Port Briefing Room, Wisma A PTP, the pledging and signing ceremony was led by Mr. Marco Neelsen, Chief Executive Officer of PTP, and witnessed by Dato' Hj Azmi Hj Alias, Director of MACC Johor. Also present during the event were members of PTP senior management team, heads of departments and MACC officials.
The Corruption-Free Pledge is an initiative taken by PTP to hold everyone in the company accountable and responsible for carrying out duties with integrity as well as to hinder from engaging in any corrupt misconduct. This effort is also aligned with MMC Group's commitment in having a strong culture of high ethical practices, observed in all business practices.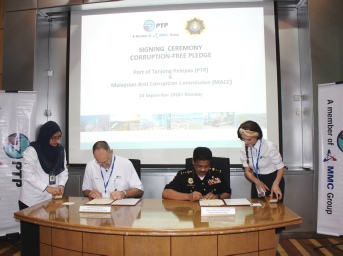 NEXT NEWS
PREVIOUS NEWS
NEXT NEWS