PTP Volunteers and Gelang Patah
Residents Joint Effort to Refurbish A 90-year-old School
PREVIOUS NEWS
NEXT NEWS
PREVIOUS NEWS
Port of Tanjung Pelepas (PTP), a member of MMC Group organised PTP 2018 Gotong Royong Perdana to refurbish Sekolah Kebangsaan Tanjung Kupang, Gelang Patah.
The PTP 2018 Gotong Royong Perdana was held aim at strengthening camaraderie among the students and their sense of belonging to Sekolah Kebangsaan Tanjung Kupang as well as encouraging the spirit of volunteerism among PTP's employees, parents of students, teachers and local community. The school was built in 1929 and is one of the oldest public schools in Johor Bahru district. The Gotong Royong Perdana was launched by En Muhammad Abdullah Hatta, Chief Financial Officer of PTP. The gotong royong saw over 100 volunteers taking part in the activity.
At the school, the volunteers painted the academic building and cleaned its compound. Apart from that, the volunteers also led a few fun learning activities for the school children such as colouring contest, interactive game session and lucky draw.
This year, is the sixth time PTP organised its Gotong Royong Perdana. The initiative had shown that with the support of a volunteerism spirit from PTP to work in collaboration with the school's personnel, it was possible to help upgrade and beautify the school and make the school's environment more liveable and conducive for the students to study.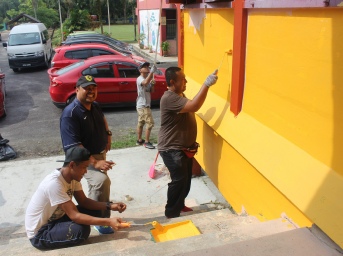 NEXT NEWS