Air Berhad Showcases the World's First
Halal Compliant Water Recycling Plant at MIHAS 2019

Aliran Ihsan Resources Berhad (AIR Berhad), a member of MMC Group, and Ayamas Food Corporation Sdn Bhd (AFCSB), participated in the Malaysia International Halal Showcase (MIHAS) 2019 under the High Technology (HiTeC) exhibition at MITEC, Kuala Lumpur. AIR Berhad's participation in the showcase which ran from 3 to 6 April 2019, was aimed at promoting the successful wastewater treatment plant upgrading works to stakeholders and educate visitors about the recycling plant technology used in AFCSB's plant in Port Klang, Selangor.
YB Datuk Seri Dr Mujahid Yusof, Minister in the Prime Minister's office officiated the event. The booth was also visited by Duli Yang Maha Mulia Seri Paduka Baginda Yang Di- Pertuan Agong Al-Sultan Abdullah Ri'ayatuddin Al-Mustafa Billah Shah. Both En Adam Saffian Ghazali, Chief Executive Officer of AIR Berhad and Adi Wira Razak, Chief Executive Officer Upstream Division of QSR Brands (M) Holdings Bhd were present at the booth attending to the visitors.
The event was held for four consecutive days and included exhibitors and delegates from across the Asia-Pacific Region and global Halal industry. AIR Berhad's showcase during MIHAS 2019 has drawn special attention from potential customers as they showcased the world's first halal compliant water recycling plant in poultry processing, further establishing MMC Group's standing as an innovative engineering entity.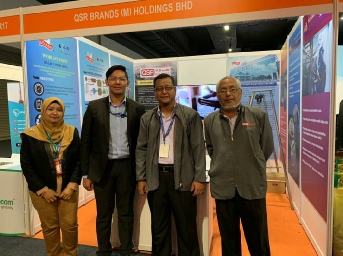 NEXT NEWS
PREVIOUS NEWS
NEXT NEWS
PREVIOUS NEWS