Gas Malaysia Held its Majlis Berbuka
Puasa with Pusat Jagaan Cahaya Kasih Bestari
Gas Malaysia Berhad (Gas Malaysia), a member of MMC Group, organised a Majlis Berbuka Puasa event at its headquarters to honour the blessed month of Ramadan. The event provided an opportunity for employees to reconnect and come together as one family.
In a bid to reaffirm its commitment towards helping the less fortunate, Gas Malaysia invited 39 orphans from Pusat Jagaan Cahaya Kasih Bestari from Kampung Melayu Subang. The event was graced by Ustaz Azizul Asri Ahmad Tajuddin, who also delivered an inspiring tazkirah on the wisdoms and virtues of Islam and its importance during the month of Ramadan.
Employees and the management team were seen present in their best traditional outfits and there were various savoury dishes such as kurma, nasi tomato, ayam masak merah, daging masak dendeng, pajeri nenas, kuah dalca and many more being served. As a sign of muhibah and strong unity among Gas Malaysia employees, non-Muslim employees were also happy to be part of this memorable occasion.
During the event, Encik Ahmad Hashimi Abdul Manap, Chief Executive Officer of Gas Malaysia distributed duit raya to the orphans. The month of Ramadan is filled with bliss and abundant of blessings.
"We are happy to play host to these orphaned children to enable them to taste the warmness of the festive season. The event has been an ongoing tradition for Gas Malaysia and breaking fast together also provides a platform to strengthen bond and friendship amongst employees" he said.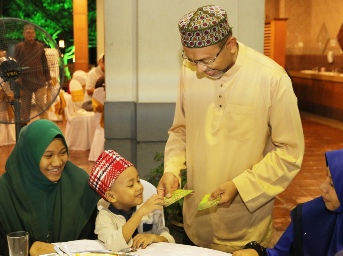 PREVIOUS NEWS
PREVIOUS NEWS