Malakoff Donates Cows to Segari and Mukim Serkat for Aidiladha
In the spirit of the Aidiladha celebration, Malakoff Corporation Berhad (Malakoff), a member of MMC Group donated four cows to the communities in Segari, Perak and Mukim Serkat, Johor.
The celebration of Aidiladha started with the congregation performing prayer at Malakoff-sponsored Masjid Khairul Jariah, Kampung Segari and Masjid Al-Amin, Kampung Sungai Dinar, Mukim Serkat followed by the korban. Then, in the spirit of communal works, the local congregation worked in groups to divide the meat in bags and distributed them to the needy in their respective areas.
Prior to this, representatives from Malakoff handed over the livestock to the respective mosques in preparation of the korban. Mohd Salehuddin Abu Bakar, Plant Manager of Lumut Power Plant and Mustpha Kamal Zainal, Head of Maintenance of Tanjung Bin Energy Power Plant handed over the cows in simple ceremonies held in their respective local communities.
This engagement was one of Malakoff's continuous initiative to show its commitment to the community where it operates.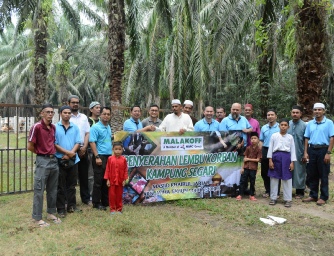 PREVIOUS NEWS
PREVIOUS NEWS
NEXT NEWS
NEXT NEWS